Since 1998, Highlight Films has provided camera crews for documentary films in Israel & Pal. In addition, we offer a wide range of other production services for hundreds of American, Canadian, European and Asian documentary film and video productions. Some of our documentary customer arrive to Israel and work with our producers; Others send us their wish list, preferred locations, interview questions and any technical info, and we follow it to the letter.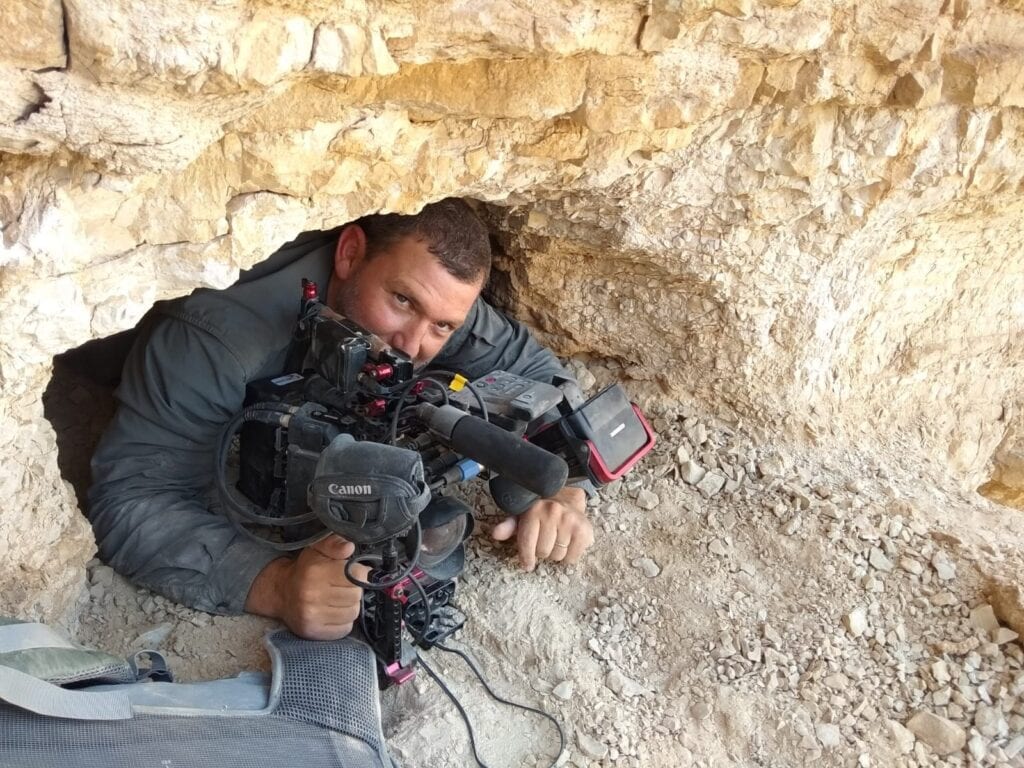 Our camera crews for documentary films in Israel & Palestine can provide any video, stills shoot or audio production; we work only with highly experienced professionals and well-kept gear. We always use our accumulated experience to achieve an efficient and successful production. We have our own 4K and HD camera sets and prime lenses, grip and lights, as well as editing and post production facilities, so we can keep the cost of production competitive.
Israeli and Palestinian camera crews
Camera crews for documentary films in Israel, as well as all our documentary film cameramen, sound engineers, ACs, grips and other film and video professionals, are very experienced in international documentary film productions. We'll always send you their reels in advance, before the professional dialogue begins… Israelis and Palestinians work together in Highlight Films. We respect each other's sensitivities, and we work together for the same end. The border between Israel and the Palestinian areas is not always clear; therefore our Palestinian cameramen would often film documentary films Jerusalem or other places i Israel-proper.
In many productions the visiting filming crews or production crews have to cross back and forth between Israeli and Palestinian territories. We know how to plan it right and which ways and procedures to follow in order to make the crossing quick, safe and efficient.

Here are some pointers and links for the camera services we provide:
Camera Crews for Documentary Films in Israel: Cameras and formats
Our camera crews for documentary films in Israel & Palestine work in all HD and 4K camera formats: AVCAM, HDCAM, XDCAM, RAW – all in PAL and NTSC.
Our camera crews are equipped with Arri, Red, Sony, Panasonic and Canon HD / 4K cameras:
Red Epic / Helium / Dragon / Weapon
Alexa / Mini-Alexa
Canon C-300m2
Panasonic Varicam
Sony FX9 / F55 / FS7m2 /A7Sm2 / A7Rm4

Camera Crews for Documentary Films in Israel: Standard camera set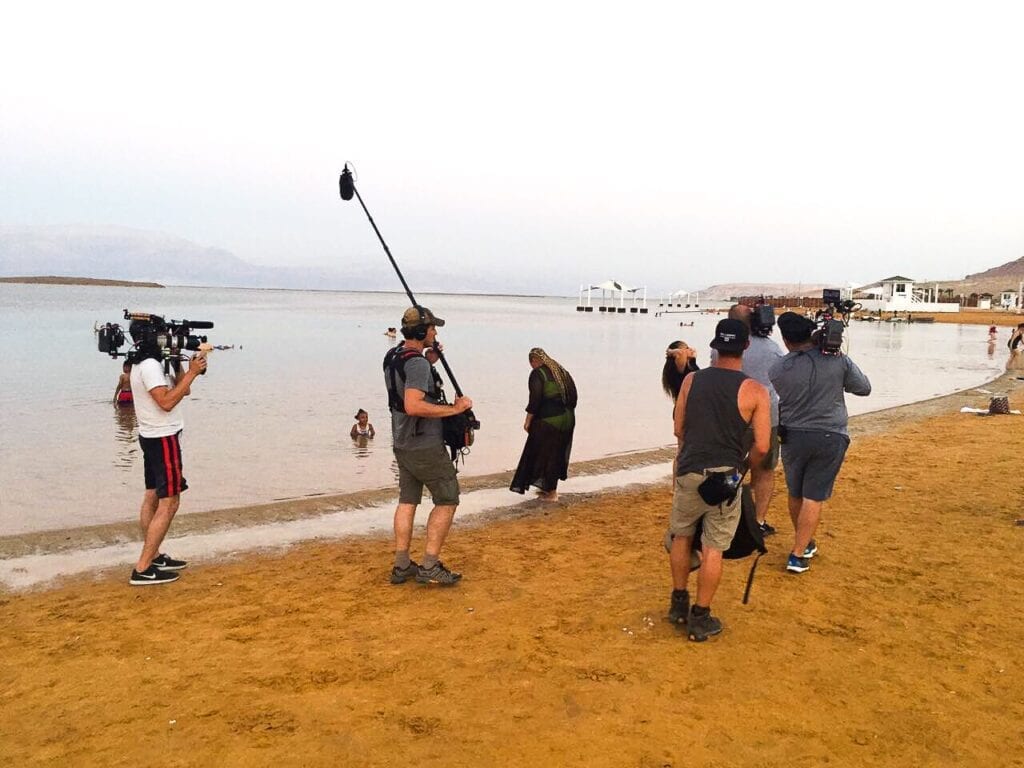 When we send a camera set for a filming day, it will always come out after a full check in our lab.
The camera will be sent out with a tripod, LCD monitor, memory cards and card reader, on board camera microphone, basic lights for interviews, batteries and charger.
If there is no soundman in the crew, we will also send a boom + 416 mic and wind cover, and a radio mic with headphones.
Camera Crews for Documentary Films in Israel: Television Production Services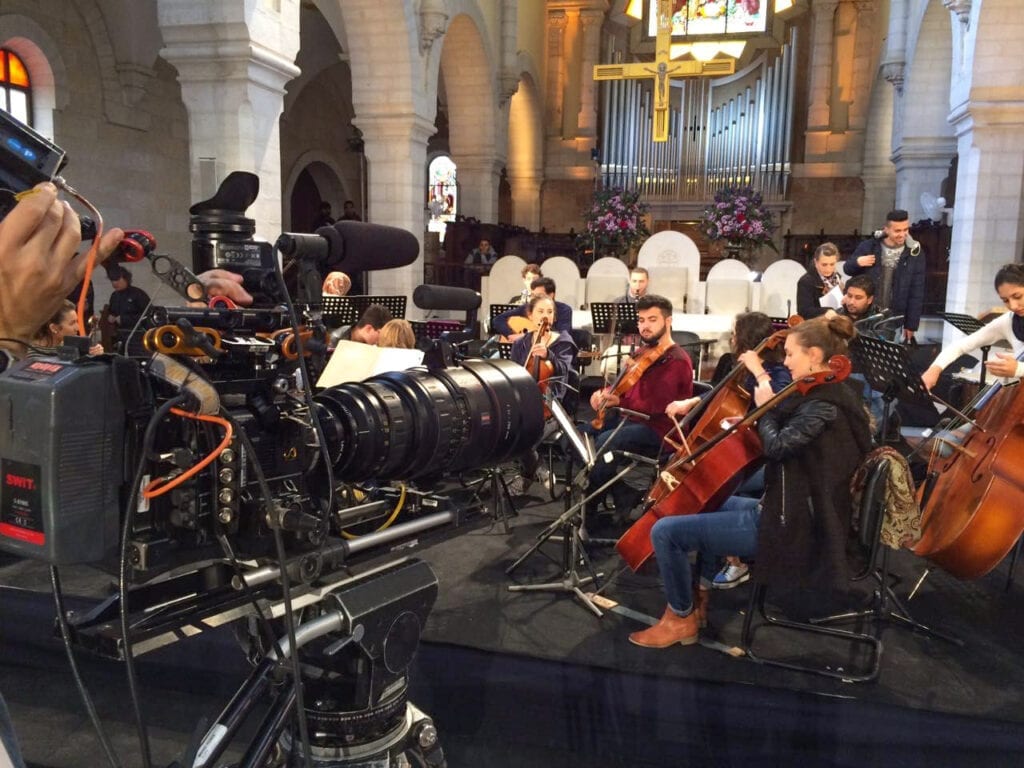 Highlight Films has more than fifteen years of experience in producing television projects in Israel, Palestine, Jordan and throughout the Middle East – from TV shows to documentary films, reality formats, documentary feature films, sport related stories and others. We will assemble the best local camera crews possible in Israel, the Palestinian West Bank, Gaza Strip or elsewhere in the Middle East for you to work with, and we can assure you the highest professional levels on all fronts.
Documentary Film Footage
Our 4K and HD stock footage archive of Israel is unique in many ways, but most importantly much of it was filmed for the express purpose of being used in a documentary film. Some of the footage in our library was used in our own films, following the most significant events and locations in the recent history of Israel and Palestine. If your documentary film, TV commercial spot, corporate or organizational video is happening elsewhere, and you need only a few minutes from Israel, we assure you that we can get the best footage for you.
Want to know more about camera crews for documentary films in Israel and Palestine? Contact us…